Description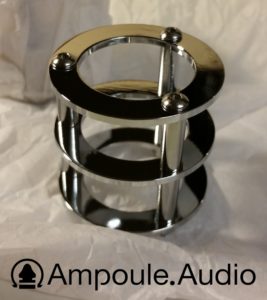 Valve Guard for 12AX7 and similar valves.
These valve guards are a robust and attractive solution for protecting exposed valves on amplifiers or effect pedals (as shown in the photos).
They can be easily completely dismantled to change the number of rings or to remove the bottom ring entirely to mount the guard on its three pillars. All threads are M3.
Conditions of Sale
All items should be paid for within 7 days of the auction ending.
Postage for this item is $7.50. Up to 10 items may be combined for no additional postage, unless otherwise stated on the sale pages.
If this item is faulty, you may return it for a full refund including postage costs. Refunds of non-faulty goods do not include return postage.
Local pickup is available from Coburg, 3058 for exact cash, Paypal or EFTPOS.

If you have any queries, don't hesitate to message us.